A few weeks ago the Divine Miss M opened at Caesar's Palace in 'The Showgirl Must Go On'. For those of you not paying attention,
Celine Dion
ended her five year run at the Coliseum. For the last few years Sir Elton John has been filling in when Ms. Dion goes on vacation every few months, and he will continue in this role. But Bette will be alternating with Cher as the main headliner. It's been talked about in the local papers – the ultimate gay destination, Bette, Cher and Elton all at the same location. OK, no stereotypes about sexual orientation, but I remember Jack on Will and Grace playing with his Cher doll.
I thought Bette would be putting on a tremendous show, but early sneak reviews of the practice performances are not too kind, but the 'official' start date is Feb. 29, and most performers make drastic changes to a show during the testing phase. Bette jokes about how huge the stage is, and how Celine filled it with dancers while Bette has not yet reached that size of a backup group, even though there are 22 musicians in the band. I've always liked her attitude, and will probably be signing up for tickets soon myself. However, at $95 to $250 per ticket I will not be seeing her too often. And yes, she will include Delores in her act. For those of you not familiar, here:
Cher is supposed to put on a great show. Most of the reviews of her recent 'goodbye tours' sound like there is more to her shows than her singing. It is anticipated that she will have twelve to fifteen costume changes during a show, so if it's a 90 minute performance that severely restricts how much time she has on stage. But there supposedly will be lots of feathered dancers around Cher, as there are for Bette.
I think Elton wears lots of feathers himself, or at least lots of sequins. Cher's tickets are in the same range as Bette's while Elton's are three to four times the price.
And somebody pointed to this one: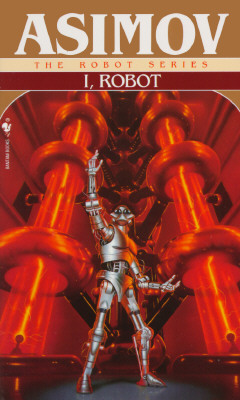 You're I, Robot!

by Isaac Asimov

While you have established a code of conduct for many generations to
follow, your demeanor is rather cold and calculating. Brought up to serve humans, you
have promised never to harm them, to follow orders, and to protect yourself. Living up
to this code has proved challenging and sometimes even drives you mad. If you were a
type of paper, you would be pulp.


Take the Book Quiz
at the Blue Pyramid.
OK, back to some behind the scenes pictures today. This was the setup stage for a recent show. Downstairs we had some trucks move in to unload for that level.
While upstairs there were trucks also lined up in the hall to unload. I couldn't get all of them in the photo, but there were about forty trucks lined up here being unloaded. There were over a hundred forklifts zipping around delivering all of those pallets around the hall. It takes a lot of coordination, as the first trucks unloaded have to have stuff for the booths farthest away, because if the close ones are delivered first then the boxes get in the way of ones further out. Overall I think it took around 200 trucks to deliver all of the exhibitor stuff for this show. Add to that another thirty or so for the show designer, with all the curtains and carpets and chairs and stuff, it all comes in over three or four days. After the show the halls are usually empty within 24 hours or so. Lot quicker to take it out than to bring it in.
This is what the hall looked like after the unloading process – piles of boxes and pallets all over, waiting for the people manning the booth to show up, take stuff out of the boxes and build their displays.